Labor Day Camping – 2023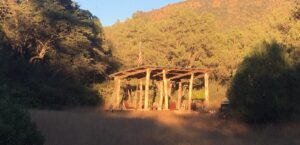 Saturday through Monday : September 2-4
Come on up to enjoy some time in the mountains! Camp will be open and set up with an outdoor kitchen, composting toilets, running water, and a group gathering and bonfire area. Individuals, families, and groups just need basic camping gear (tents, sleeping bags, warm clothes) and bring your own food to prepare.
Note that the last couple of miles are on a rough road, only recommended for higher clearance vehicles.
Before heading up, please read the details about SAWUURA.
[formidable id=13]

SAWUURA Contacts
Eb Eberlein, ebaztrails@gmail.com
Curtiss Seale, curtissimo@mac.com
---
Hosted Free Camps
Check Event Calendar for upcoming camps.
The SAWUURA board of trustees has instituted a new program know as the Hosted Free Camps. This program, under the joint direction of the Facilities and Program Committees, has several goals — some play some work:
Play — To provide a regular opportunity for fellowship in the woods as well as promote more frequent visitation and enjoyment of the site: hiking,
exploring, bird watching, and just hanging out.
Work —

To address the problem of the buildup of dry, dead, combustible materials throughout the SAWUURA property, a condition that has been further exacerbated by the ongoing drought, and to deal with this problem through a long term program of ladder fuels reduction to be largely carried out by the volunteer labor of SAWUURA members and friends.

Fuels Clearance: These tasks, especially the fuels reduction project, are extremely labor intensive. Fuels reduction basically involves removing all dead dry materials from ground level (excluding forest floor litter such as dead leaves) to roughly 8 feet up into the trees. Doing this will hopefully keep on the ground and away from the tree crowns any wild fire that enters the property, minimizing the fire's destructiveness. The dead materials are piled in the meadows until conditions for burning or mulching are appropriate.
Tools: We only have a very limited set of tools available at the site. It would be wise to bring your own. We have found that the most useful tools for fuels reduction are a bow saw or other good-sized pruning saw, long-handled loppers, and a telescoping pole saw. Additional items of personal equipment that are useful include heavy work gloves, long pants and long-sleeved shirts, eye goggles, and, if you have one, a hard hat.
Camping: As always, camping at SAWUURA is basic tent camping. Be aware that as we move toward winter, overnight lows will regularly drop to or below freezing. Bring your best sleeping bags or more comforters or blankets-whatever it takes to keep warm through the night. Don't forget a warm hat.
Attending/Volunteering: We would greatly appreciate the participation of all members and friends and especially teen and youth groups. Once you come and enjoy SAWUURA you will come again. Work/Play Weekends are more than just work. They are also a chance to relax in the quiet of the woods, to hike, to explore and to just hang out with friends.
If you are interested in attending a Work/Play Weekend or perhaps even leading one in the future contact:
Eb Eberlein at: 520-622-6966
If you are interested in attending one of our events, click here to go to our forms page.
For information on creating a program or event for your UU group, contact programs@sawuura.org.
---
Spring Music Weekend
Women's Weekend
Youth Camp
Watch here for more details.
---
Annual Meeting:
Annual Membership Meeting and SAWUURA Board election every year around May. Please check your UU congregation newsletter, or email info@sawuura.org