DRIVING DIRECTIONS TO SAWUURA
From Globe:
Go north from US 60 halfway between Miami and Globe on State Route 188, towards Lake Roosevelt. Turn right on S.R. 288, north towards Young. From there it is about 30 miles to Young, on mostly paved road. The road has some steep and winding turns as it climbs into the mountains. The pavement ends where the pine forest begins, and becomes a well-graded gravel road. (There is another paved section once you're in the forest) Please drive carefully.
About 5 miles before Young, watch for mile marker 301. Continue on about one half a mile. As you come down hill and the road curves to the right, look for a Forest Road on the left hand side. The road is difficult to see because it is at a sharp angle to the main road and goes downhill. This is Forest Service Road 238. As you drive down the road, keep left. DO NOT GO RIGHT ON ROAD #845. (skip to part below map for final instructions).
From Payson:
Go east on S.R. 260 through Christopher's Creek, to the top of the Mogollon Rim. About 10 miles from Christopher Creek (31.7 miles from Payson) turn right onto Forest Service Road 512 (S.R. 288) towards Young. Drive carefully on the well-graded dirt road about 20 miles to Young. Drive through Young on the paved highway. Continue on S.R. 288 south of Young. Watch for mile marker 302. Drive another one half of a mile. On the right side, watch for a small road that goes downhill at an angle to the main road. This is Forest Service Road 238. As you go down the hill, DO NOT TAKE ROAD #845.
Please be aware: S.R. 288 between S.R. 268 and Young is in the process of a long-term paving project. For current conditions and possible restrictions consult the ADOT (Arizona Department of Transportation) website or call 1-888-411-ROAD.
SAWUURA Access Road (FR 238)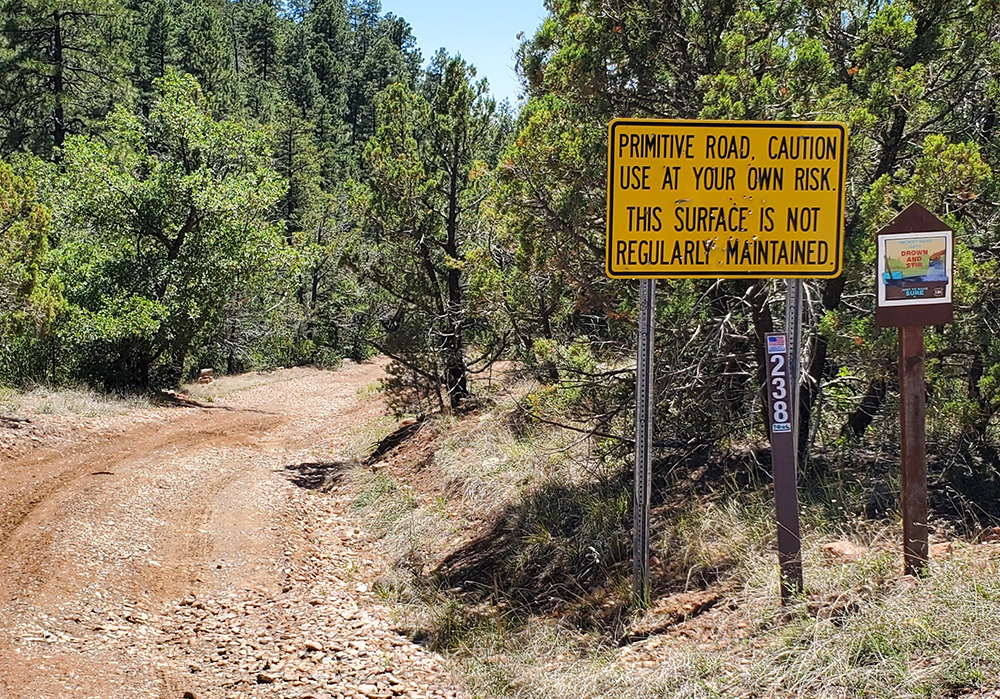 SAWUURA is approximately 2 miles from the turnoff onto FR 238. Drive very slowly and carefully, avoiding or moving anything that might damage your vehicle. Keep to the left where a small road branches off.  DO NOT TAKE ROAD #845. You will cross a normally dry creek bed about 4 times before coming to a cattle gate. There is a sign there: NOT A THROUGH ROAD, DEAD END. Go through the gate and be sure to close the gate behind you. There is a second gate (normally locked) and a cattle guard at the entrance to SAWUURA.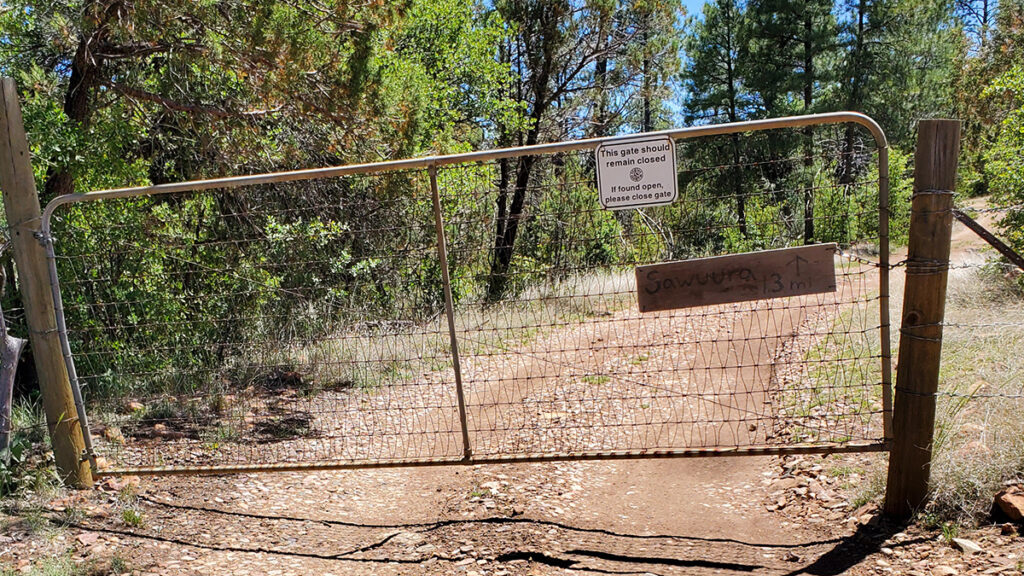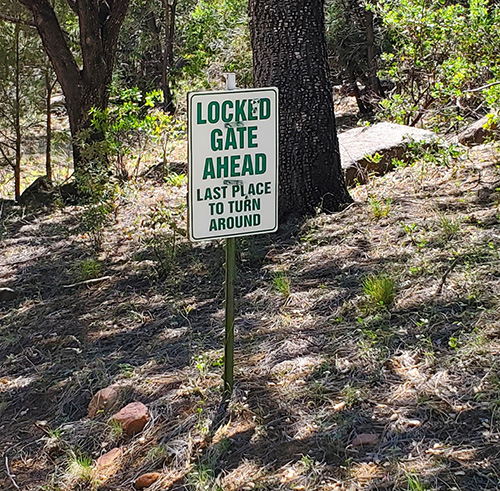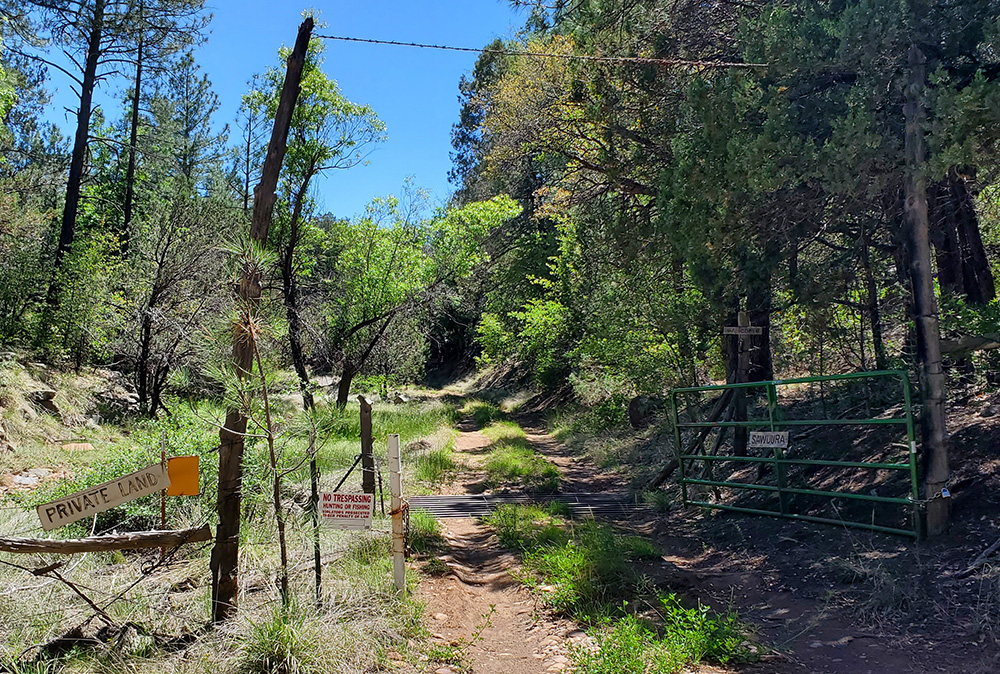 You will drive by a windmill and water tank, keep going for .7 mile until you reach the clearing with the ramada and kitchen area on the right. Park off the road and check in with camp host here.
Members may camp on the property by notifying a board member prior to the trip and completing and mailing (or delivering) a signed waiver to the SAWUURA secretary. Each stay is limited to a maximum of 14 days per individual.
BE ADVISED THAT IF YOU ARE VISITING SAWUURA AT A TIME NOT DURING A SCHEDULED EVENT YOU WILL NEED THE COMBINATION FOR THE LOCK ON THE SAWUURA GATE. For this information call Caaretaker, Eb Eberlein at 520-622-6966 or a board member.
Driving Time:
Estimated 3.5 to 4 hours from Phoenix, Prescott, or Tucson and about 2.5 hours from Flagstaff.
YOUNG, ARIZONA
Although the SAWUURA property is located in the Sierra Ancha Wilderness and provides a sense of seclusion and serenity, the small community of Young, Arizona, is only a short drive (20 to 30 minutes) to the north. Young is located in what is know as "The Pleasant Valley," an extensive bowl of natural grasslands situated below the Mogollon Rim and north of the plateau of the Sierra Anchas. The western fringe of these grassland is visible from the heights on the north side of the SAWUURA property. Young was settled by ranchers in the late 1870s and is the site of the fabled "Pleasant Valley War," otherwise known at the Graham-Tewksbury Feud, a deadly struggle in the best (or worst) tradition of the Old West, a struggle between cattle and sheep interests over whom would control access to the rich grasslands of the valley.
Today Young is quiet. The climate is mild all year with a winter low of 21 degrees and a summer high of 90 degrees. Young is still in ranch country, but is becoming primarily a retirement and second home community. Limited services are available: a small store, a library (that we help support), a winery with food, a motel and several other businesses that provide accommodations. For more information on Young, go to www.youngaz.com.
The current weather in Young can be found at weather.com.
TONTO NATIONAL FOREST
At 5500 feet SAWUURA is located in what is known as the Transition Area, approximately 20 miles south of Mogollon Rim country. As you drive into Young on S.R 288 from SAWUURA the great wall of the rim can be seen stretching from the southeast to the northwest. Both in the rim country and in the wilderness areas immediately to the south of SAWUURA, the Tonto National Forest of which the Sierra Ancha Wilderness is a part, offers numerous recreational activities including hiking, trail-riding, and fishing. For detailed information go to www.fs.fed.us/r3/tonto/, home page of the Tonto National Forest.
The Pleasant Valley Ranger Station is located in Young just south of Highway 288 on Forest Road #63. It is only open occasionally.The Payson Ranger Station can be reached at 928-474-7900.
The address is:
Pleasant Valley Ranger Station
P.O. Box 450
Forest Road 63
Young, Arizona 85554
Phone: (928) 462-4300
Fax: (928) 462-4346